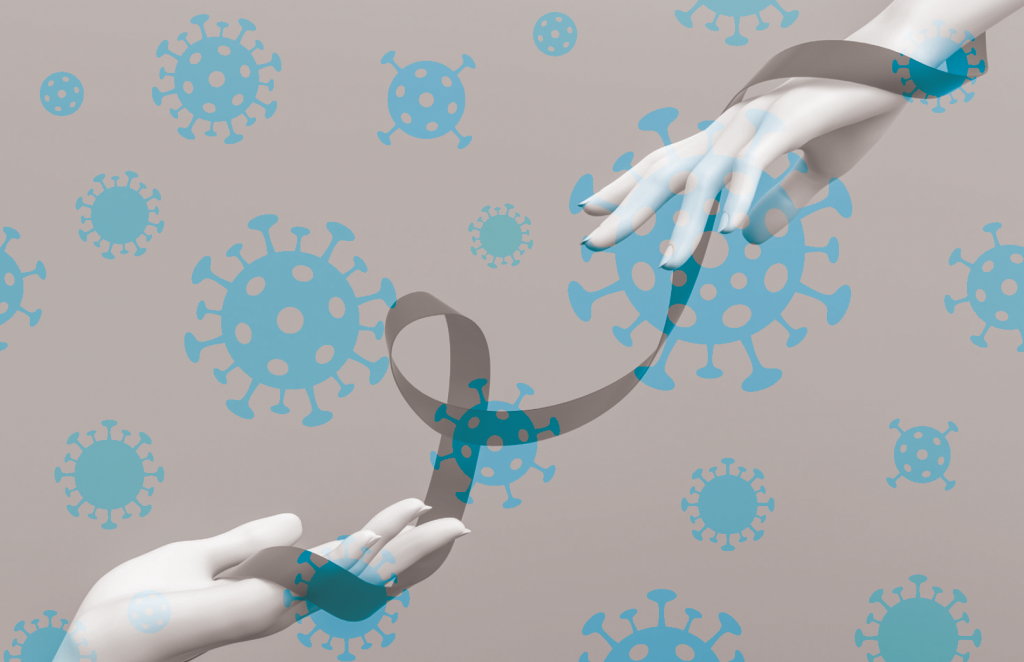 The pandemic socked cancer with a gut punch.
Not only did COVID-19 cause many cancer patients to become seriously ill and die, but fear of catching it kept others from seeking diagnosis – even after the appearance of symptoms. This was particularly the case in many low income communities of color.
Dr. Ilmana Fulger, divisional director of hematology/oncology at SBH, knows this first-hand. She says she's lost a number of patients who became infected with COVID and continues to see many COVID "long haulers," particularly lymphoma patients. This includes those in remission.
As problematic, she is also seeing what happens when patients choose to delay diagnosis. In the Bronx, the suspension in the running of diagnostic mobile units that would normally travel to screen women where they live, like the SBH mammography van, only added to this.
"We see patients who were waiting for this pandemic to be under some degree of control before they came in, who would otherwise have come in months before, and who are now presenting with advanced malignancies, especially breast and colon cancers," says Dr. Fulger. "We have patients who watched their breast tumors growing, but were too scared to get out of the house."
One person, she recalls, came in a year ago August, after waiting months with a very advanced breast tumor. "As a result, she required a much more intensive treatment, with chemotherapy, surgery and then more chemotherapy," says Dr. Fulger. "She was lucky, but her outcome is not going to be as good as if she had presented six months earlier. She is in remission now, but we are watching her very nervously for a relapse to happen."

COVID Risk
According to the National Cancer Institute (NCI), those with cancer or a history of cancer have a higher risk of severe illness and death from COVID-19. In fact, in findings released by the COVID-19 & Cancer Consortium, cancer patients with COVID-19 died at three times the rate of non-cancer patients. Those whose cancer was progressing despite treatment have a mortality rate of 26 percent. Those with blood cancers are considered to be at a higher risk – because they often have abnormal or depleted levels of immune cells that produce antibodies against viruses – than those with solid tumors.
One study showed that up to four percent of patients testing positive with COVID had an underlying diagnosis of cancer. Cancer patients who became seriously ill or died as a result accounted for up to 20 percent of COVID positive patients in the study. Older patients with cancer are most at risk.
Black people die at about twice the rate from COVID as white people, according to the Centers for Disease Control and Prevention, and are at far higher risk of hospitalizations and complications. COVID and cancer share risk factors that disproportionately affect people of color.
All this does not bode well for cancer patients in the Bronx, where healthcare disparities existed long before the pandemic.
"There are a number of socioeconomic factors that affected our patients before COVID," says Dr. Fulger. "They are more likely to be uninsured, many are low income, they have difficult social factors and sometimes, sadly, they don't have the medical literacy to understand that something is very abnormal and needs to be checked out."
According to an editorial in Science, "There can be no doubt that the COVID-19 pandemic is causing delayed diagnosis and suboptimal care for people with cancer." It goes on to say that modeling the effect of COVID-19 on cancer screening and treatment for breast and colorectal cancer, which together account for about one-sixth of all cancer deaths, conservatively projects that 10,000 excess deaths from these two forms of cancer can be expected over the next decade, but would peak in the next year or two.
SBH kept its infusion center open throughout the pandemic, unlike many other centers in New York City. "There was a lot of turmoil within the medical oncology field on how to manage and care for these patients at the height of the pandemic," says Dr. Fulger. "We looked at what were the risks of continuing treatment versus how often can we get along with less frequent infusions?"
Telemedicine, after all, can only do so much when it comes to treating cancer, she says. "Telemedicine is tricky unless the patient is in complete remission and the appointment is only a routine sort of follow up. A patient who has an active cancer or a new diagnosis of cancer requires active treatment."
Whenever possible, she says, she tries to space out infusions for patients treated with immunotherapy, seeing them, for example, every six weeks instead of every three weeks. "This has been done throughout the oncology world," she says. "I've kept in touch with other oncologists and do all these webinars to see how to address cancer care during the pandemic. We did adjust some of those regimens.
"This is a once-in-a-lifetime horrible, catastrophic event that affected everything, including cancer care."